GLAMPALM FLAT IRON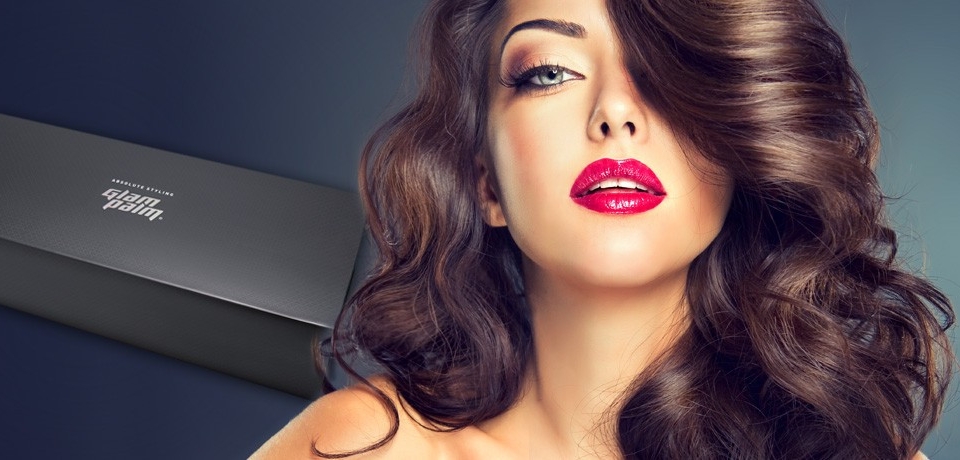 ABSOLUTE TECHNOLOGY

Ceramic Coating & Anion
Special ceramic coating for soft sliding
GLAMPALM's unique heat plate prevents the pulling of hair through an advanced ceramic coating treatment that represents a significant improvement over exisiting anodizing* method.
*What is "Anodizing"?
It is an electrolytic passivation process used to increase the thickness of the natural oxide layer on the surface of aluminum alloys.
Far-infrared ray and anions for softer, glossier hair
By emitting far-infrared ray and generating anions from its ceramic coating, which is made of a mixture of natural materials including mineral and alumina power, GLAMPALM prevents hair damage and makes hair softer and glossier than ever.
Efficient heat transfer for 'treatment effect'
Thanks to efficient heat transfer properties, you can create satisfying hairstyles even at lower heat plate temperatures for an outstanding "treatment effect" and improved safety
Tilting & Cushion
Unique tilt feature provides the best styling
The heat plate automatically tilts at the optimal angle according to the direction of use. This tilt feature provides added flexibility to guarantee the best styling results by preventing bending of the hair and ensuring even heat transmission.
Heat plate cushioning to prevent hair damage
Through the distinctive heat plate cushioning function, GLAMPALM stylers prevent hair-pulling by dispersing the pressure off your hair, and also relieves wrist pain.
ABSOLUTE PERFORMANCE


Rapid Styling
Instant heating with MICOM temperature control system
Through its ceramic heater and digital MICOM heat control system, GLAMPALM's initial heating speed is 26 seconds faster than other existing hair irons' 120 seconds.
Best styling with instant heat recovery
Adopting the world's first "twin control system," heaters are controlled individually to maintain the desired temperature, thereby saving time and maximizing hairstyling efficiency.
Speedy styling and maximum hold
Owing to its even heat transmission and quick heat recovery time, a simple sliding motion allows you create any hairstyle and maintain it for a long time.
Multi Styling
Optimally sized heat plate for multi-styling freedom
The optimally-sized heat plate allows users to create various hairstyles, while the rounded body is ideal for sculpting straight, curly and wavy styles..
Perfect styling with adjustable temperature
Through adjustable temperature settings, users can set the exact level of heat they want.
ABSOLUTE DESIGN
Simple Design
Comfortable grip with ergonomic design
The outstanding grip and ergonomic design affords greater user convenience and minimizes wrist fatigue from long-term use.
Simple, minimalist aesthetics
The black exterior finish and the sleek design convey quality and elegance, while the streamlined body free of unnecessary parts provides maximum ease of use.
Led Lighting
At-a-glance temperature readings
In an improvement over existing temperature indicators, which take sometime to ascertain the heat level, GLAMPALM's high-end blue LED light indicates when the styler has reached the desired temperature and is ready to use.

Along with the handy LED temperature-checking enhancement, GLAMPALM stylers feature a sleep mode after 60 minutes of non-use, and a 10-second buzzer that allows users to monitor the condition of the product.

*The auto shut-off feature has been changed from 30 minutes to 60 minutes on all units manufactured after October 2009.
ABSOLUTE FREEDOM

3D Swivel Pivot Cord
360° swivel cord for styling freedom
The 360° swiveling ball-type cord makes hairstyling easier and more comfortable, while preventing twisting and knotting of the cord.
3D pivot cord maximizes product life
Designed for use in salons, the cords on GLAMPALM stylers are firmly attached to the body for extra durability, convenience, and product lifespan.
3-meter cord for greater convenience
The extra-long 3-meter cord allows stylists a wide circle of movement without hindrance for the optimum styling conditions.
Free Voltage
Free-voltage for freedom of use
With its rated operational voltage of 100 to 240 volts and 50/60Hz (Hertz), you can use your GLAMPALM styler anywhere in the world.
Best styler for business trips and gifts
Thanks to the free-voltage feature, GLAMPALM stylers are the ideal overseas travel item, as well as the perfect gift for relatives and acquaintances overseas.
ABSOLUTE SAFETY

Safety Measure
Minimal heat transfer for superior safety
With the heat resistance cap located on the front, heat transferred to the hands is minimized, thereby increasing user comfort and safety.
Automatic shut-off function
For added energy-savings and safety, a built-in sensor prevents overheating, while an automatic shut-off switch turns off the product after 30 minutes
of non-use.
Global Standard
70% of global market
Chosen by 70% of hair salons all over the world including U.S., Europe, Japan and Korea, GLAMPALM's styling technology is recognized as second to none.
Designed to meet all international standards
GLAMPALM hairstylers are designed to fulfill the requirements of domestic and international safety certification agencies in all regions including Europe, the U.S. and Japan.
Product reliability exceeding global standards
The level of electromagnetic wave blocking and overall product reliability surpass International CE standards, demonstrating GLAMPALM's world-beating technology.